The official website of icddr,b-led  "USAID's Research for Decision Makers (RDM)' is now live at http://rdm.icddrb.org/. This dedicated website for the RDM project was developed to share updates of ongoing research projects, along with key findings of completed studies.
RDM, initiated in May 2017, is a five-year implementation research project which focuses on identifying existing evidence gaps, prioritising research studies to generate evidence, and promoting the use of evidence in policy making through advocacy and strategic communication.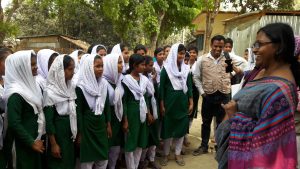 In partnership with the Government of Bangladesh, USAID and other key stakeholders, the RDM project is carrying out a range of studies and activities that covers four broad thematic areas – maternal, neonatal and child health; family planning and reproductive health; tuberculosis; and nutrition, as well as two cross cutting-areas – universal health coverage and health systems strengthening.
We hope that you will find RDM website to be informational, easily navigable, and useful.