"Not until the half of our population represented by women and girls can live free from fear, violence and everyday insecurity, can we truly say we live in a fair and equal world." — UN Secretary-General António Guterres"
Violence against women and girls (VAWG) is one of the most widespread, persistent and devastating issues prevalent in the world today. It is not just a major public health concern but also a grave violation of human rights, manifesting in physical, sexual and psychological forms. The statistics for VAWG are alarming: one in three women and girls experience physical or sexual violence in their lifetime, most frequently by an intimate partner, while only 52% of women married or in a union have the freedom to make their own decisions about sexual relations, contraceptive use and healthcare.
One of the most common situations faced by women and girls is violence inflicted upon them by an intimate partner. It is characterised by physical and/or sexual violence, stalking, and psychological aggression perpetrated by a current or former partner. It can often lead to death given that as many as 38% of murders of women are committed by a male intimate partner.
In Bangladesh, intimate partner violence (IPV) is widespread and widely accepted one in two ever-married women older than 15 years of age have reported experiencing physical and/or sexual IPV during their lifetime.
Various research studies postulate that women are more likely to experience intimate partner violence if they have low education, exposure to mothers being abused by a partner, abuse during childhood, and a general acceptance of violence, male privilege, and women's subordinate status. Similar findings have been found in men, who are more likely to commit violent acts if they have little education, a history of maltreatment as a child, exposure to domestic violence against their mothers, and acceptance of unequal gender norms including a sense of entitlement over women. While most studies have focused on the negative experiences pertaining to IPV, very little research has examined the influence of witnessing positive parental dynamics on perpetration of violence.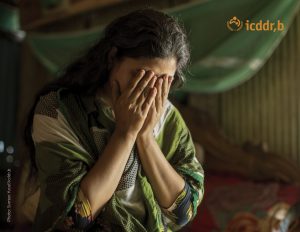 Scientists as icddr,b (in collaboration with partners at Rutgers University, Emory University, and the University of Essex) have explored the relationship between a man's childhood experiences in witnessing gender-equitable decision making among his parents and within his community and whether this correlates with his risk of perpetrating physical IPV as an adult. This is based on the hypotheses that witnessing more equitable decision making between parents in childhood and equitable decision making in the current community will be negatively associated with physical intimate partner violence perpetration as an adult.
Approximately 1,500 married men between the ages of 18-49 and residing in urban (Dhaka) and rural (Matlab) settings were interviewed for the study. The interview topics included eight modules related to demographics and employment, childhood experiences, attitudes toward gender relations, health and well-being, and intimate relationships and measured against variables related to individual and community-level exposure (of violence and gender-equitable parental decision making) as well as attitudes towards masculinity.
The results confirmed the researchers' hypothesis in that witnessing gender-equitable parental decision making in childhood between parents is negatively associated with the likelihood of physical IPV perpetration later in life. It did not re-affirm the second hypothesis, as living in a community with more gender-equitable parental decision making as an adult was significantly associated with IPV perpetration. However, the authors remain positive, suggesting that these results lend support to engaging a gendered process of social learning in childhood.
Boys who witness equitable decision making practices between parents may internalise equity norms as it relates to intimate partners and be less likely to engage in violence against their own partners as adults.
Violence against women continues to be an obstacle to achieving equality, development, peace as well as to the fulfillment of women and girls' human rights – a facet which is at the heart of the Sustainable Development Goals. Intervention strategies which promote gender equity in the family are likely to benefit the next generation by shifting attitudes and norms of masculinity. Efforts to empower women as a means to address IPV may alienate men and make women more vulnerable to violent backlash by men in patriarchal settings. Thus, the researchers propose a less controversial entry-point for intervention – engaging men (and boys) into programmes which emphasises the important benefits of collaboration and harmony within an intimate relationship.