Participation of community members in improving local healthcare institutions is an established approach in addressing healthcare issues in Bangladesh. It has been long been facilitated in this country, in projects varying from sanitation to maternal and child health, clean water and health infrastructure.
In order to involve local communities in programme planning and execution, an icddr,b team recently arranged a discussion on community participation in healthcare services. Under the SHARE-SPHIP project, the discussion aimed to explore how best healthcare strategies can be suitable for and acceptable to the local community members.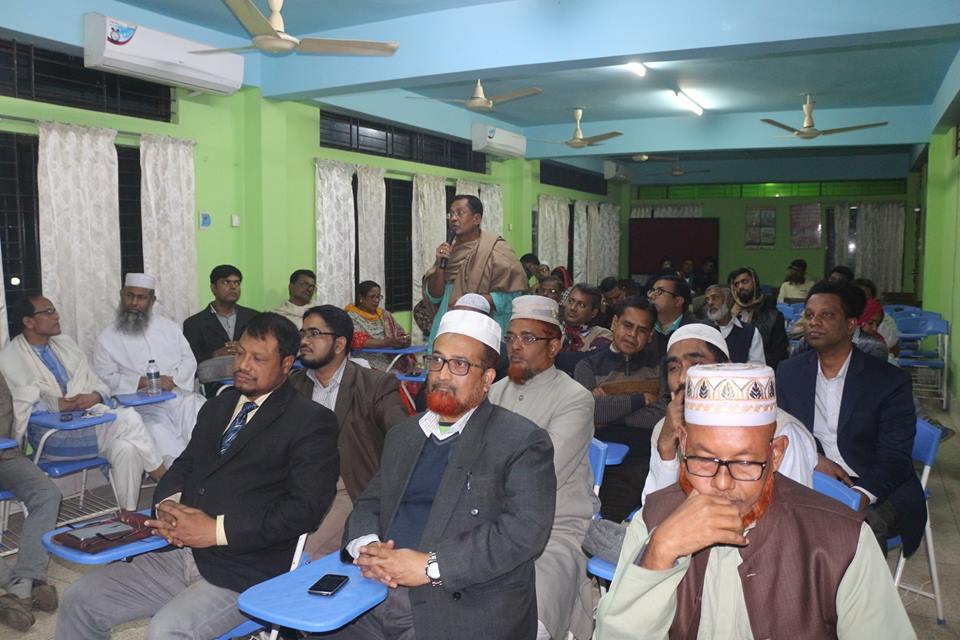 Held in Jhenaidah district in southern Bangladesh at the AID Foundation on 26 December 2017, the discussion engaged the local crowd in a fruitful exchange of knowledge, information and ideas on issues related to community participation in healthcare services. A distinguished public figure in healthcare service delivery in Bangladesh, Dr Md. Emdadul Haque, Senior Consultant, Gynae & Obs, Jhenaidah Hospital presided over the meeting facilitated by Dr Iqbal Anwar, scientist and project director, SHARE project, icddr,b.
Among notable floor discussants were Mr Tarikul Islam Palash, CEO, AID Foundation; Dr Rabiul Hossain, Professor, Islamic University, Kushtia; Mr Anisur Rahman, Social Worker, Jhenaidah; Mr Md. Saidul Karim, Mayor, Jhenaidah Purashabha; Ms Sharifa Khatun, Director, Welfare Efforts.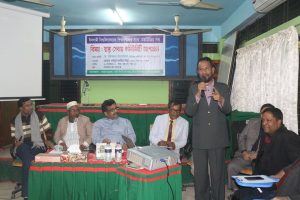 The discussants observed that despite the disappointment of many health programmes' facilitation without the participation of target communities, healthcare professionals continue to address and discuss the importance of community members' participating in the existing healthcare scenarios.
Though commitments to community contribution are common in healthcare in Bangladesh, ways to make the most of health service delivery and care remain unclear. Proper research and statistics are needed to assess the existing situation in this regard.
To be beneficial, the training of health care providers at the district and upazilla levels should improve the quality of health related services they provide to the local communities. It is also important to ensure that their roles in the community are not troubled by their excessive private practice schedules and political tension taking place in and around health facilities.
Gradually it is being accepted that the constant increase in human resources and facilities in health may not essentially result in an improvement in public health scenarios, if caregivers are not trained properly. Health professionals at hospitals and clinics cannot provide timely and necessary services because of limitations such as budget constraints and political restrictions.
Outcome of the meeting
It was observed that a multi-dimensional approach on healthcare development is needed.  Community leaders, academics, public representatives, health professional, students and general people from all walks of life should collaborate to contribute to change and improve the existing situation.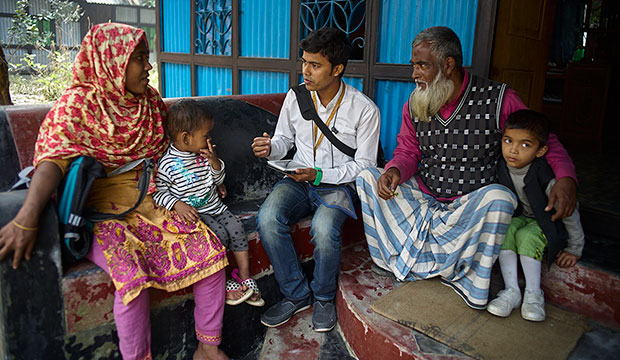 Intellectuals should advocate and support improving healthcare practices. Community involvement encourages shared responsibility by service providers, community members and local political organisations for cultivating healthcare facilities in the community.
The major recommendations:
Community members and doctors involved in providing healthcare at community level should have a positive and humanitarian approach. Ethical education and professional empathy can also pave way for better health care, especially for members of financially challenged households living in rural and remote locations.
When community members "own" local healthcare facilities, they often assemble resources and capital that may not otherwise be accessible and obtainable. People from all professions can work together to advocate for better programmes, services and policies. It can also reduce the number of emergencies and unexpected admissions to hospitals or clinics.
Timely support from local political communities can reduce barriers to maternal health information and services for grassroots community members and can raise responsiveness regarding patients' right to access, information and affordable treatment. It can also increase the answerability of primary and secondary health programmes in district and upazilla settings.
Blood banks and related information database can easily be created with the help of local education institutions, which can give easy access to required fluids for patients in case of emergency. This can also be made available online.
In conclusion, such public engagement reciprocally benefits all actors involved in local healthcare scenarios. By taking notes of observation, viewpoint and requirements of local community members on health issues, this discussion increased the understanding of the strengths and weaknesses of the local health system in Jhenaidah and surrounding areas.
It was expected that information exchanged in the discussion would help to modify and adapt health service delivery according to existing and future needs of local communities.  Policies and strategies were also chalked out for the ensuing year, to promote similar successful community participation in healthcare services in other hard-to-reach areas of Bangladesh.