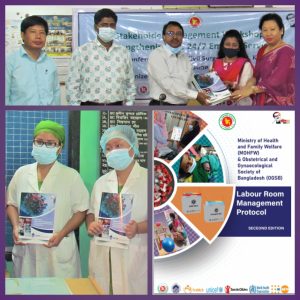 During the COVID-19 situation, the government of Bangladesh has made considerable effort to address women's health in terms of safe delivery at healthcare facilities. In response to the COVID-19 pandemic, the Obstetrical and Gynaecological Society of Bangladesh (OGSB) with technical assistance from icddr,b and financial assistance from the United Nations Population Fund has updated 'The Labour Room Management Protocol' which is the management protocol of women during delivery.
The labour room protocol will ensure that a pregnant woman is well cared for, when she delivers in the facility. Maternal healthcare providers (including midwives and all other healthcare workers providing maternal healthcare) can access personal protective equipment, ensure sanitation, and a safe and respectful working environment which in turn ensures a healthy workforce by providing quality care for women.
The first distribution began at Khagrachari Civil Surgeon Conference Hall, with the presence of the Civil Surgeon Khangrachari, Junior Consultant for Obstetrics and Gynaecology from Khagrachari District Hospital and UHFPOs from Dighinala Upazila Health Complex and Ramgarh Upazila Health Complex. Dr Sabrina Jabeen, research investigator at iccdr,b inaugurated the circulation at Khagrachari. Concurrently, this protocol will be circulated at health district facilities in Kushtia and Chandpur district and upazila level facilities.