It all started over a cup of tea and a discussion about how hard it is to get a decent sanitary napkin in this locality, if you haven't brought one with you, when it's your "that time of the month!" The frustration of not having a decent pharmacy nearby got us to think about what could be done, and the discussion brought a Eureka moment! A Sanitary Napkin Vending Machine!
Deployment of one Vending Machine costs less than 350 USD or 30,000 BDT. That isn't a lot of money if you think about the benefit it will bring, however, now we had more questions! And one cup of tea was not enough! So, we decided to break to for the day and find out ways! Over the next few hours, WhatsApp discussions among the initial "tea-buddies" encountered questions like – 
Who will pay for it? Any project or is it going to be core funding? Who will maintain and restock it? Where will we get the cost for maintenance from? Would we ever get the permission?
To tackle all these questions, we went for a 15-minute Tea-Singara Party
– as we all know no one at icddr,b can keep away from the charm of a good Singara
. We decided to go for crowdfunding to arrange the deployment cost. A glass pot was set up near an open space and a BKash number was circulated. People chipped in with whatever amount they wanted. For the next couple of days, money in all possible permutations started to arrive in both the glass pot and the Bkash account. As expected, female colleagues, the primary users, contributed; however, I was pleasantly surprised to note that, the majority of the contributed amount came from our male colleagues. I even saw two of our male support staff slyly open the glass pot and sneak a note in. Only in five working days, we raised the required fund, got the administrative approval, arranged a vendor, established the vending machine, managed a funding source for the maintenance cost and found a way to restock the machine.
Now, on the eve of World Menstrual Hygiene Day (28 May 2022), I am very happy to announce that, the Female Toilet at Level 6 (East-South Corner) of icddr,b's main building has a Sanitary Napkin Vending Machine. Women can buy a single pack of sanitary napkin at a reduced price from a selection of napkins. Money raised from the sales will be utilised for purchasing the next batch of napkins. The whole process will be managed and monitored by an agency and the maintenance costs will be borne by Rotary Club of Dhaka PathFinders.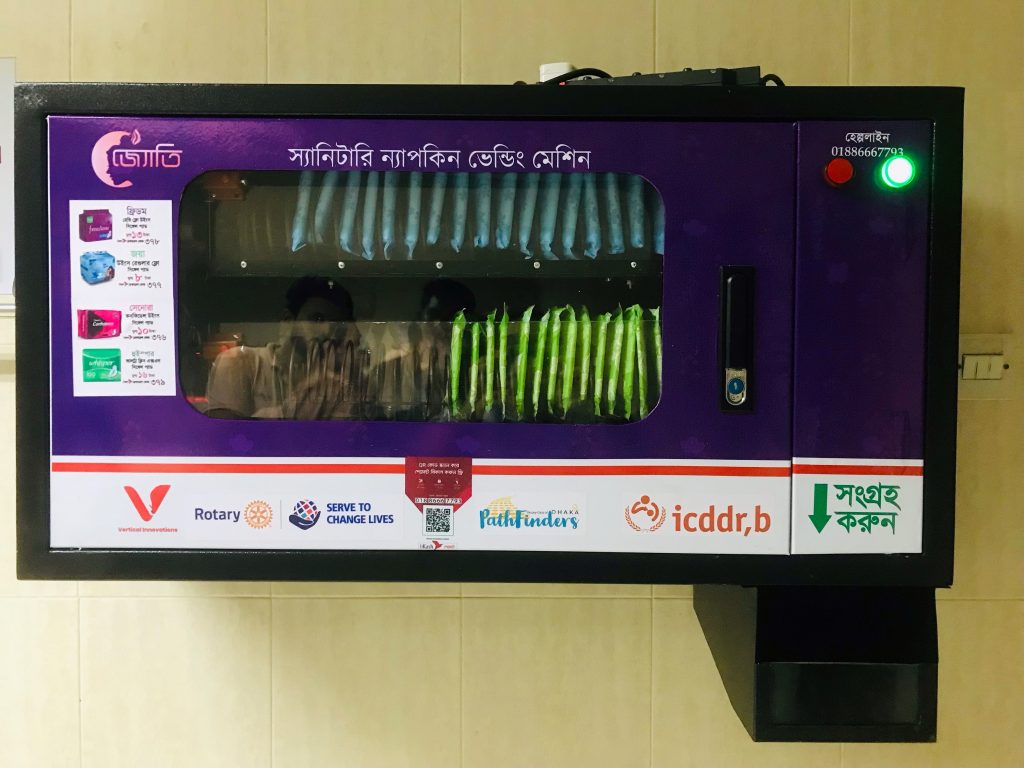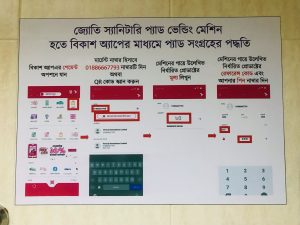 I am not an icddr,b staff by contract. However, I am a very proud D4I staff, working closely with the amazing people of icddr,b – whose motto of life is "
let's do it
".
What more can you ask from life! 
Written by
Shusmita Khan 
Research Associate | 
Data for Impact (D4I)
Carolina Population Center |
 University of North Carolina at Chapel Hill