In celebration of World Autism Awareness Week, icddr,b organised an arts and crafts exhibition prepared by differently-abled children, to raise awareness and express solidarity with children with autism spectrum disorder (ASD) ahead of the Autism Awareness Day on 2 April.
The participants observed that autism is not a disease and it should not be a setback. An enabling environment can facilitate children with special needs to share their thoughts, mingle with everyone in the society and express their creativity and special talents.
Exhibits from children studying at Autism Welfare Foundation, Society for the Welfare of the Autistic Children, Beautiful Mind, and PFDA-Vocational Training Center were presented on Thursday, 29 March 2018, at the icddr,b showcase to highlight the immense potential of differently abled children.
In Bangladesh, one in an estimated 500 children or around 1.4 million people have ASD, according to the Ministry of Social Welfare of Bangladesh, but many are not diagnosed due to insufficient awareness of the condition
Autism-related stigma and lack of knowledge are setbacks for both parents and health professionals to support people with ASD.
Poshla, a child with ASD, addressed the event on behalf of participating children saying, "I go to special school, I love to draw, sing, recite poems and make handicrafts. I have my paintings exhibited here. I am grateful to icddr,b and you all for coming here."
icddr,b gathered amazing works of arts and crafts and arranged for their exhibit and sale, and icddr,b staff dressed in blue to show their support. Throughout the week, icddr,b will show its solidarity as its building facade will be lit up in blue light at night in common with iconic landmarks and buildings around the world to support World Autism Awareness Week.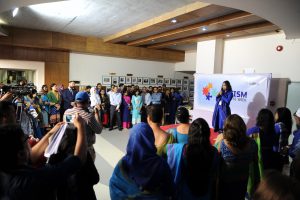 A number of researchers at icddr,b are working on mental health and also focus on children with ASD. Headed by Dr. Aliya Naheed, a new icddr,b study under icddr,b's non-communicable diseases initiative, is exploring whether mothers who have children with are affected by depression.
Dr Naheed and her team of researchers, Dr Abdun Noor Tushar, ceo of Nagorik TV and eminent media personality and representatives from the Government, development partners, different embassies to Bangladesh and other stakeholders attended the event.
Speaking at the exhibition inauguration, Syed Monjurul Islam, deputy executive director at icddr,b  expressed his gratitude to the participating children with autism and their families, partner organisations for their support in holding the exhibition.
"We want children with autism to grow up in an environment that works for them. Every one of us has a role to play to make the home, school, workplace, transportation, toilets, parks, marketplaces accessible for them," he added.