A new mhealth initiative led by Government of Bangladesh and icddr,b shows promise in improving the notification rate of (TB) cases to the National Tuberculosis Program (NTP).
This improves the current system of notification that may leave patients without treatment who may as a result spread the disease further if untreated.
The mobile app named Janao has been developed in close collaboration with Ministry of Health and Family Welfare (MOH&FW) with support from USAID's Challenge TB project to enable thousands of doctors to increase TB case notifications and follow-up mechanisms of the National Tuberculosis Program (NTP).
The new downloadable mobile app can be used by all physicians or their assistants to permanently enroll a suspected patient under the NTP's DOTS (directly observed treatment, short-course) facilities.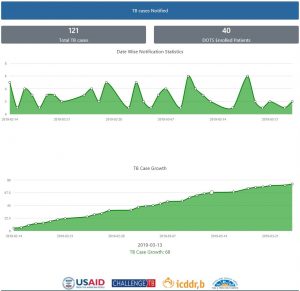 Once enlisted, a patient will never go missing since the DOTS too will receive notifications with demographic information to send follow up reminders for free treatment or direct them to their preferred or nearest facilities, and eventually update the NTP with treatment-related updates.
"We expect this app to contribute significantly in the NTP's efforts to bring all the missing cases under the NTP umbrella," observes Dr Sayera Banu, senior scientist leading the emerging infections programme and the USAID-supported TB projects at icddr,b.
World TB Day 2019 theme It's time accentuates on the various commitments made by global leaders regarding TB prevention and treatment, according to World Health Organization (WHO). As the world's deadliest infectious killer, TB claims nearly 4500 people every day while another 30,000 people fall ill due to this preventable and curable disease, notes WHO.
"The good news is that TB mortality rate is going down in Bangladesh," notes Dr Banu.
In Bangladesh, icddr,b has been at the forefront of preventing spread of TB with the on-the-ground initiative for TB diagnosis through its TB Screening and Treatment Centers. The health institute has over two-decades of experience of conducting TB studies in Bangladesh, a country regrettably remaining as one of 30 high TB and MDR-TB burden countries with over 220 people affected in every 100,000 people, according to WHO Global Tuberculosis Report 2018.
icddr,b TBSTCs on track to identify missing TB cases
Now strategically located in seven prime points Bangladesh's capital Dhaka and in three locations in Sylhet and Chittagong in order to cover an optimal population, icddr,b's TBSTCs are active in identifying both undiagnosed and unreported TB cases and contributing to NTP's work.
icddr,b has prioritised establishing TBSTCs in Chittagong and Sylhet – the second and third highest populous metropolitan cities of Bangladesh as per the National Strategic Plan (2016-2020) for Public Private Mix (PPM) initiative in TB and the corresponding PPM Operational Plan (2017-2020) of the NTP.
icddr,b TBSTCs use state-of-the-art diagnostic called GeneXpert that can identify rifampicin-resistant TB (RR-TB) cases in two hours, which is a valid marker for multidrug-resistant (MDR) TB suspects. When found positive, patients are counselled to take free treatment at NTP linked DOTS (directly observed treatment, short-course) facilities, those who prefer to buy anti-TB drug from pharmacy are reported to the NTP.
In response to the commitment to end global TB epidemic, WHO has emphasised "scaling up access to prevention and treatment" and "promote an equitable, rights-based and people-centered TB response" among priorities. icddr,b work in line with this aim by working closely with the government, private practitioners and global funding initiatives to effectively identify patients and further prevent spread of this infectious disease in Bangladesh.